Article – Guide Piscine – by Julie from Guide Piscine – 28 oct. 2021.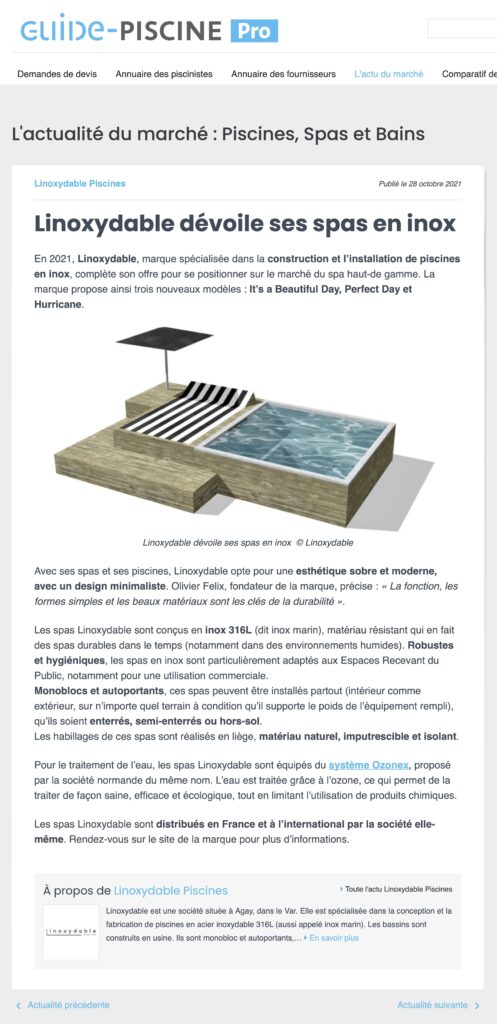 In 2021, Linoxydable, a specialized brand in the construction and installation of stainless steel pools, expands its offering to enter the high-end spa market. The brand introduces three new models: It's a Beautiful Day, Perfect Day, and Hurricane.
With its spas and pools, Linoxydable opts for a sleek and modern aesthetic with minimalist design. Olivier Felix Isselin, the brand's founder, explains: "Functionality, simple shapes, and beautiful materials are the keys to durability."
Linoxydable spas are crafted from 316L stainless steel (also known as marine-grade stainless steel), a durable material that ensures long-lasting spas, especially in humid environments. Sturdy and hygienic, stainless steel spas are particularly suitable for Public Spaces, especially for commercial use. These monoblock and self-supporting spas can be installed anywhere, indoors or outdoors, on any suitable ground that can bear the weight of the filled equipment, whether they are buried, semi-buried, or above-ground.
The coverings of these spas are made of cork, a natural, rot-resistant, and insulating material.
For water treatment, Linoxydable spas are equipped with the Ozonex system, offered by the Normandy-based company of the same name. Water is treated using ozone, ensuring a healthy, efficient, and eco-friendly treatment while minimizing the use of chemicals.
Linoxydable spas are distributed in France and internationally by the company itself. Visit the brand's website for more information.
About Linoxydable :
Linoxydable is a company located in Agay, in the Var region. It specializes in the design and manufacturing of pools using 316L stainless steel (also known as marine-grade stainless steel). The pools are constructed in the factory and are monoblock and self-supporting.
---