法国设计师Olivier Felix Isselin获日本国
际先锋设计大奖IDPA银奖
Press review / article published on 2023-09-13 – CHINA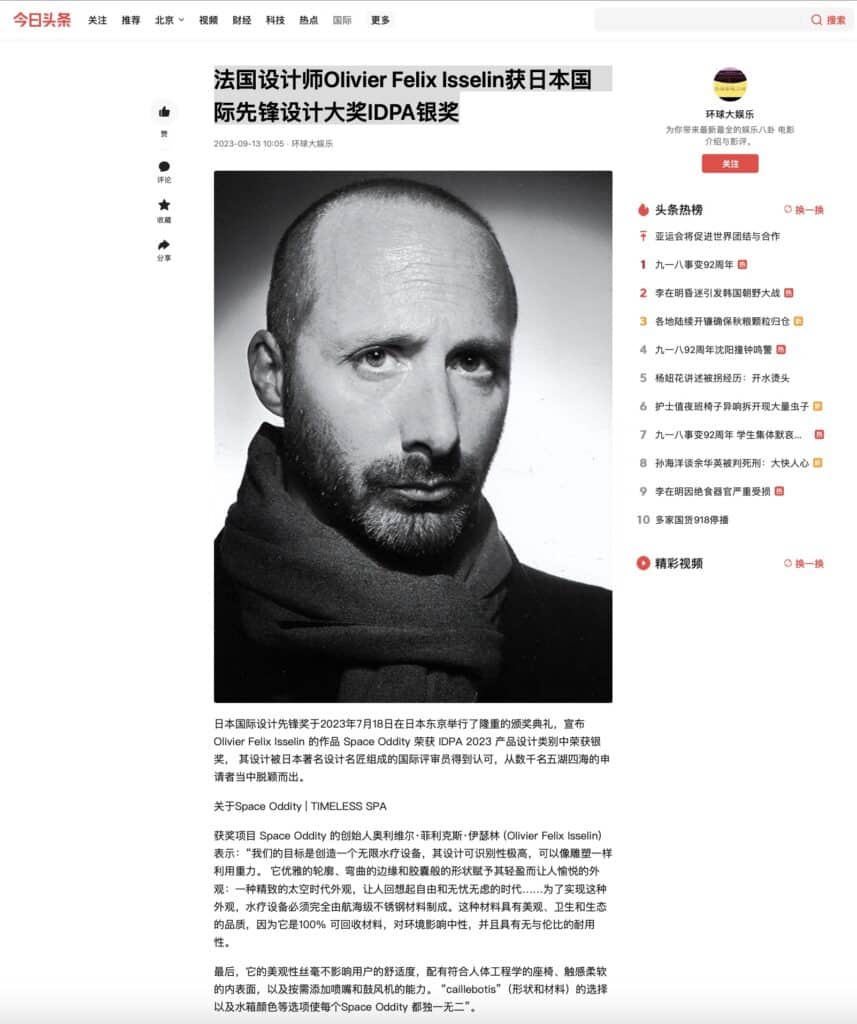 The Japan International Design Pioneer Award held a grand awards ceremony in Tokyo, Japan on July 18, 2023. It was announced that Olivier Felix Isselin's work Space Oddity won the Silver Award in the IDPA 2023 product design category. Its design was selected by a group of famous Japanese design artisans. International reviewers were recognized and selected from thousands of applicants from around the world.
About Space Oddity | TIMELESS SPA
Olivier Félix Isselin, founder of the winning Space Oddity project, said: "Our goal was to create an infinite spa device with a very recognizable design that exploits gravity like a sculpture. Its sleek silhouette, curved edges and capsule-like shape give it a light and pleasant appearance: a sophisticated space-age look reminiscent of an era of freedom and carefree… To achieve this look, spa equipment had to be made entirely of marine grade stainless steel. This material has aesthetic, hygienic characteristics and ecological qualities because it is 100% recyclable, has a neutral impact on the environment and is unrivaled in terms of durability.
Finally, its aesthetics do not compromise user comfort, with an ergonomic seat, soft-touch interior surfaces and the possibility of adding nozzles and blowers on demand. The choice of "gratings" (shapes and materials) and options such as the color of the water tank make each Space Oddity unique."
---