Article – by Fred M. – Var-Matin – Roquebrune in Pictures Section – Friday, May 25, 2018 – p.8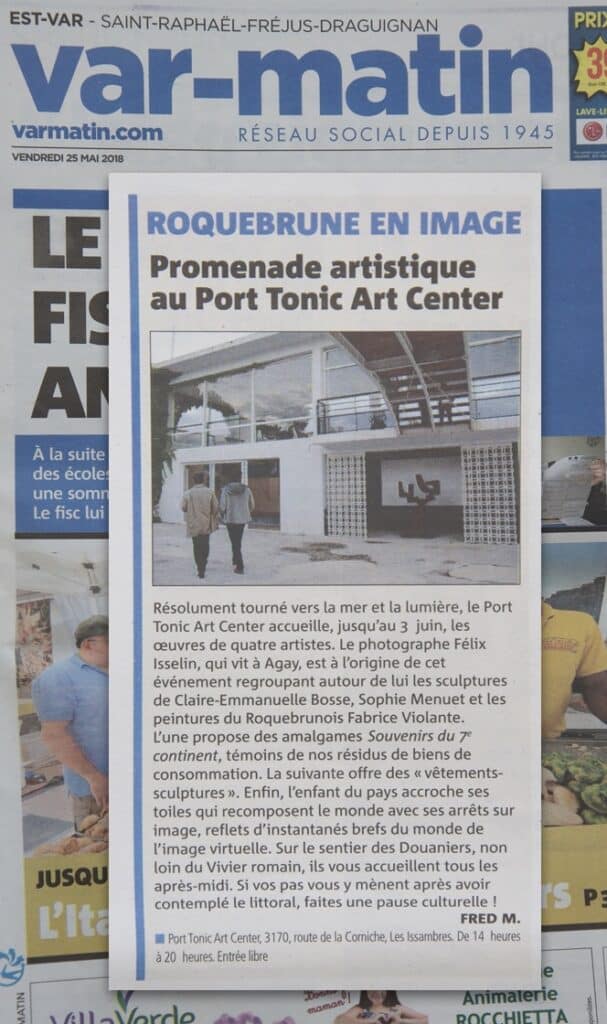 Resolutely oriented towards the sea and light, the Port Tonic Art Center is currently hosting the works of four artists until June 3rd. Photographer Felix Isselin, who resides in Agay, is the driving force behind this event, bringing together sculptures by Claire-Emmanuelle Bosse, Sophie Menuet, and paintings by Fabrice Violante from Roquebrune. One of them presents amalgamations titled "Souvenirs du 7e continent" (Memories of the 7th continent), which serve as reminders of our residual consumer goods. The next artist offers clothing-sculptures. Finally, the local artist showcases his canvases, which reconstruct the world with freeze-frames, reflecting brief snapshots of the virtual image world. Located on the customs officers' path, not far from the Roman fishpond, they welcome us every afternoon. If you find yourself in the area after admiring the coastline, take a cultural break and pay them a visit!
Archives of Olivier Felix Isselin.
---