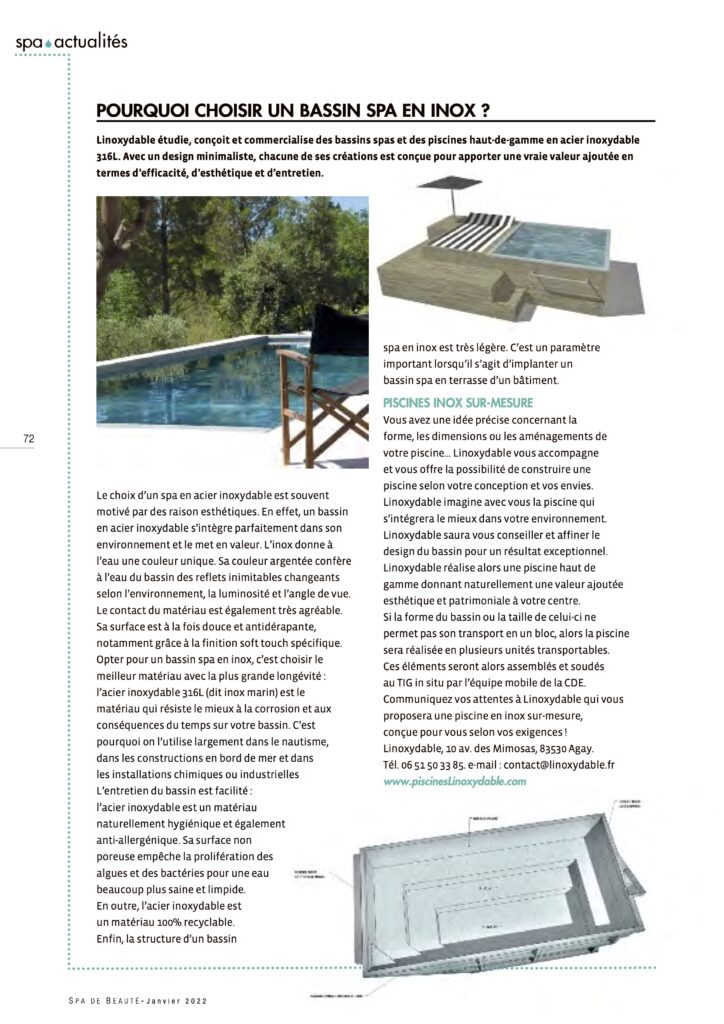 Magazine Spa de Beauté – January 2022.
Linoxydable studies, designs, and markets high-end stainless steel 316L spas and pools. With a minimalist design, each creation is intended to provide true added value in terms of efficiency, aesthetics, and maintenance.
The choice of a stainless steel spa is often driven by aesthetic reasons. Indeed, a stainless steel pool blends perfectly into its surroundings and enhances them. Stainless steel gives the water its unique color. Its silver hue provides the pool water with irreplaceable reflections that change depending on the environment, lighting, and viewing angle. The material's touch is also very pleasant. Its surface is both smooth and slip-resistant, thanks in part to the specific soft-touch finish. Opting for a stainless steel spa pool means choosing the best material with the greatest longevity: stainless steel 316L (also known as marine-grade stainless steel) is the material that best resists corrosion and the effects of time on your pool. That is why it is commonly used in the maritime industry, coastal constructions, and chemical or industrial installations.
The maintenance of the pool is made easier: stainless steel is a naturally hygienic and anti-allergenic material. Its non-porous surface prevents the proliferation of algae and bacteria, resulting in much clearer water. Additionally, stainless steel is a 100% recyclable material.
Furthermore, the structure of a stainless steel spa pool is very lightweight. This is an important factor when it comes to installing a pool on the terrace of a building.
CUSTOM STAINLESS STEEL POOLS
If you have a specific idea regarding the shape, dimensions, or features of your pool, Linoxydable can accompany you and offer the opportunity to build a pool according to your design and desires. Linoxydable works with you to imagine the pool that best integrates into your environment. Linoxydable can provide advice and refine the pool's design for an exceptional result. Linoxydable creates high-end pools that naturally add aesthetic and heritage value to your establishment. If the shape or size of the pool doesn't allow it to be transported as a single unit, then the pool will be constructed in multiple transportable units. These elements will be assembled and welded by the mobile team from CDE using TIG welding.
Communicate your expectations to Linoxydable, and they will propose a custom stainless steel pool designed for you according to your requirements.
---