Le monde – interview by Pauline Garaude – 17 sept 2002.
More than just a festival, the Rendez-Vous Electroniques have become a manifesto of electronic cultures. For its 5th edition, this event, taking place from September 6th to 24th, places a strong emphasis on visual imagery. Olivier Isselin, the artistic director of the Rendez-Vous Electroniques, presents the main highlights.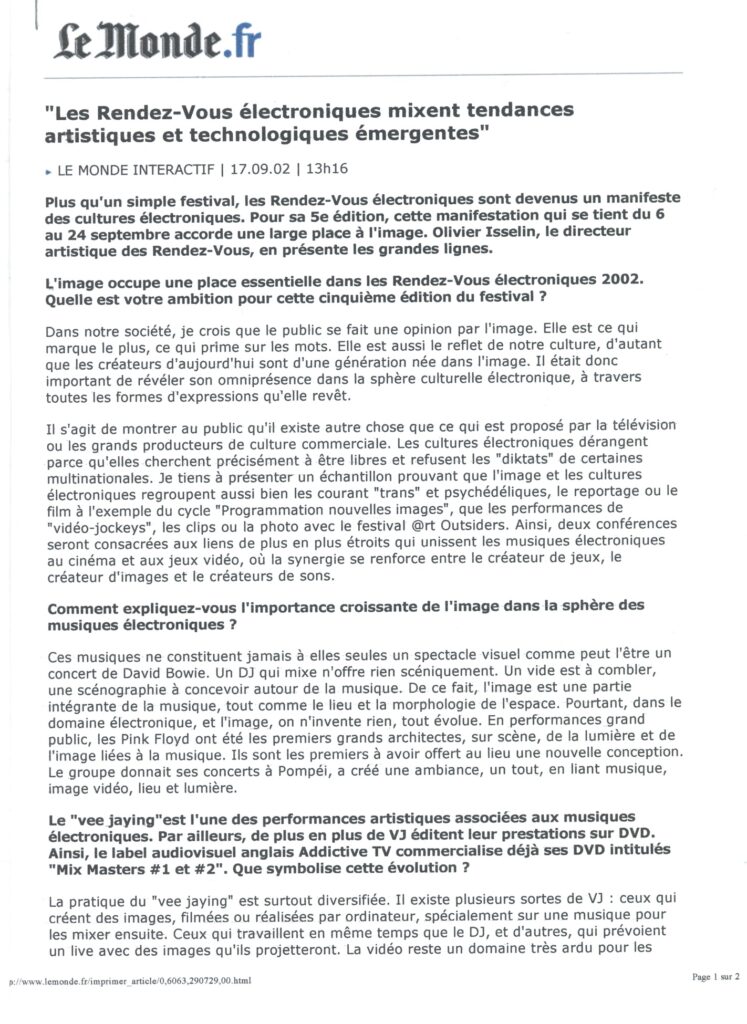 Visual imagery plays an essential role in the 2002 Rendez-Vous Electroniques. What is your ambition for this fifth edition of the festival?
In our society, I believe that the public forms opinions through images. Images leave the strongest impact and take precedence over words. They also reflect our culture, especially since today's creators belong to a generation born into the era of images. Therefore, it was important to reveal the omnipresence of images in the electronic cultural sphere, through all the different forms of expression it takes.
Our goal is to show the public that there is more to experience than what is offered by television or major producers of commercial culture. Electronic cultures disrupt because they strive to be free and reject the "dictates" of certain multinational corporations. I want to represent a sample that proves how images and electronic cultures encompass various movements, such as the "trans" and psychedelic, documentary or film genres showcased in the "New Image Programming" series, as well as the performances of "video-jockeys," music videos, and photography with the #rt Outsiders festival. Additionally, two conferences will be dedicated to the increasingly close ties between electronic music, cinema, and video games, where synergy is growing between game creators, image creators, and sound creators.
How do you explain the growing importance of imagery in the realm of electronic music?
Electronic music alone never constitutes a visual spectacle like a concert by David Bowie. A DJ mixing music does not offer a theatrical experience. There is a void to fill, a scenography to design around the music. Therefore, imagery is an integral part of the music, along with the venue and the spatial morphology. However, in the electronic domain, both image and technology are ever-evolving. In terms of mainstream performances, Pink Floyd were the first great architects who integrated light and imagery with music on stage. They were the pioneers who offered a new conception to the venue. The band created an ambiance, a whole experience, by connecting music, image, video, venue, and light.
"VJing" is one of the artistic performances associated with electronic music. Furthermore, an increasing number of VJs are releasing their performances on DVD. What does this evolution symbolize?
The practice of "VJing" is highly diversified. There are different types of VJs: those who create images, filmed or computer-generated, specifically to mix them with music later on; those who work simultaneously with the DJ; and others who plan a live performance with projected images. The video medium remains challenging for artists, as it is difficult to sell, hence the advantage of DVDs. However, let's not deceive ourselves: an artist needs to make a living. Fixing a creation on a medium and commercializing it can provide them with a livelihood, similar to how records function. Until now, live performances dominated because the technologies did not allow for much else.
---